I am particpating in Top 2 Tuesday at the
Undomestic Mama
today, so if you are coming from over there
welcome
! And if you haven't checked it out yet,
click
on over!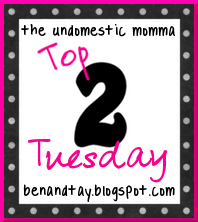 Today's Top 2 Tuesday topic, is things you can't live without...
I am totally tempted to cheat, and say friends and family (no offense if you said friends and family, *cough* cheater *cough), but those are kind of a given so instead I choose...
1. Iced Caramel Macchiato at Starbucks.
Yum. Mama needs caffeine. And sugar. When I am at my most tired and my most bummed, I head over to Target, grab one of these beauties from their Starbucks, and browse. By the time I leave I am a happier woman. No joke.
2. DVR.
I know, I know. TV is lame. It makes you fat and stupid and boring. When I was still in school I was totally the, "I'm too busy for TV," type. But now, I don't know what I would do with out it. The DVR is imperative because how else would I watch with a crazy work schedule and an even crazier baby. The shows I watch help me still feel connected to the world, while I temporarily don't feel like a part of anything, besides being Gemma's mom. I am busy now, but it is a new kind of stuck-at-the-house-every-night-even-Saturday busy, so TV has been a huge lifesaver for me.
Runners Up: Mascara, Target Shoes, Online Shopping, Pepsi, the Internet, and Friends and Family.