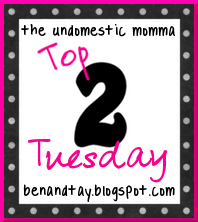 You may or may not know this about me, but I LOVE a good baby name... I love thinking about how a name will grow with a child, how the name will introduce them into the world, and how it would feel to be someone named...
So when I was browsing blogs and found this blog hop from
The Undomestic Mama
, I had to join in. The girl names are easy for me, while I have to think harder with the boys. I came up with the
PERFECT
boys name the other day, but I have totally forgotten it already.
So as of this very moment, my top two names for each gender:
Hmm...so maybe I am not for sure on the boys names, but those are two I like for sure.
But maybe not love.
Oh well, I PROMISE there will be plenty of time before I have to worry about choosing any more baby names, boy or girl!
So my friends...what are your favorite names?