I decided I would participate in an "All About MEme Monday" and today's topic was the oh-so-seasonal, What are you thankful FOUR, the twist being that you list four things that you are thankful for...get it?
Good :)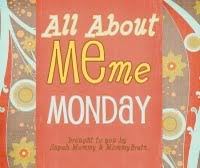 Anyway, I am going to skip the obligatory friends and family... of course they are what I am most thankful for but I am sure you have some idea of why. I also want to preface my list by saying by no means is it conclusive, nor are they even the things I am most thankful for...just some of the things. (is that the possible future lawyer coming out???)
I am thankful for
My Education:
It may not be ivy league, and my major may not have been all that practical (Mass Communications and Sociology...was I planning on ever finding a job?) but it is a miracle it happened at all. I am a first generation college student and I almost didn't choose to go. And then I couldn't afford to go. But then, somehow the fates aligned and everything worked out. I spent 5 years learning and loving and growing. Even though my choice of degree wasn't exactly the most wise I am sure I will be able to provide for Gemma and I one day because I have that. Not everyone is so lucky, especially not everyone with my socio-economic back ground.
I am thankful for
Clean Sheets:
Okay, I admit this one is kind of random, but I am thankful for clean sheets because although it is a simple luxury, it is indeed a luxury. There are millions of people around the world who aren't blessed enough to be able to enjoy the most basic pleasure of having a clean, comfy place to rest each night.
I am thankful for
Knowing my Grandparents:
I was luck enough to have all four of my grandparents for 18 years, they were all able to be at my high school graduation. My paternal grandfather and both maternal grandparents are sill living as well as a great grandmother and a great grandfather. Gemma has great great grandparents! The wisdom and love these people have brought to my life is invaluable, and I am very, very thankful to be so lucky.
Gemma and her Great Great Grandmother

I am thankful for
Being Taught the Difference between Right and Wrong:
I have made my mistakes for sure, but I did the right thing when it mattered most.
So here are just a few of the many things I have to be thankful for this Thanksgiving.
I wish you and your family all the best this week as you prepare for, enjoy, and recover from Thursday's festivities :)